Bienvenue!
Ici vous allez parler français rapidement!
C'est facile et amusant! Allons-y!
¡Bienvenido! ¡Aquí podrás aprender a hablar francés rápido!
¡Es fácil y divertido! ¡Vamos!
Haz click aquí si hablas español.
Welcome! Here you will learn to speak French fast!
It's easy and fun! Let's go!
Click here if your language is English.
Vocabulaire
Expressions
Exercices
Flashcards
Lecture
Grammaire
Chansons
Jeux
Livres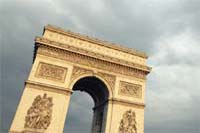 Visita nuestras otras páginas:
Saber Inglés - Saber Italiano
© Copyright - Saber Francés - 2006-2017
All rights reserved. Reproduction is prohibited.